The Study of Witchcraft by Deborah Lipp
Lipp, author of The Way of Four and Elements of Ritual, suggests that the reason there are not more advanced Wicca books is because advanced Wicca happens when you stretch beyond Wicca itself. She goes on: When I was trained as a young traditional Wiccan, I was expected to make an extensive study of topics that ranged far beyond Wicca and witchcraft. For Lipp, the areas beyond memorizing the elements of the pagan calendar and spell casting that young Wiccans ought to be exploring include such obvious topics as the evolution of modern Wicca from Freemasonry and the history of witch hunts. However, she breaks new ground when she encourages readers to explore such traditional spiritual practices as meditation and the study of comparative religion. She writes, Certain advanced Wiccan skills, such as deep trance or channeling, depend on a greater ability to still the mind, quiet the ego, and reach an inner balance. Indeed, Lipp invites readers to enter into psychotherapy in order to gain deeper self-awareness. Each of her chapters is supplemented with a helpful homework section and an annotated bibliography for further reading. Advanced practitioners of all stripes should be delighted with this 176 page trade paperback. 17.95
Wicca Handbook by Eileen Holland
This book is both a tutorial for new witches and a reference book for experienced practitioners. Covers the many ways there are to be a witch as a solitary practitioner, or part of a coven following one of many traditions. Holland shares useful information for writing spells, creating rituals, and making tools, charms, and potions. She also includes an index of spells, ancient and modern, making this an all-inclusive reference manual for all skill levels.
This is a well researched 309 page trade softcover book.
16.95
Wicca for Beginners by Thea Sabin
In her first book-length work, Sabin presents a first-rate, fresh and thorough addition to the burgeoning field of earth-based spiritual practice volumes. Sometimes using examples that young people can relate to (SATs, dying grandmothers), she opens the door to this path for people of all ages who want concrete beginnings to "work actively and spiritually to develop as a person." Sabin covers well the familiar territory of the calendar, circle, pentagram, tools, etc., but she shines distinctively in several areas. The first is in Wiccan history, written in a light, informative style that magically mines depth, breadth and brevity. Another is in the emphasis on personal will and ethical practices that transcend reliance on external paraphernalia. She also deftly shows how the various tools and spells can be put into use, but always encourages practitioners to utilize their own experiences, environment and spiritual intelligence to shape their practice. Especially helpful are the criteria to assess groups and potential teachers, and the volume is capped by a fine bibliography. Sabin advocates consistent study, practice and evolved learning. Gently admonishing her reader not to become a "one-book wonder," Sabin has nearly voided her own advice with this important first effort that is perfect for novice Wiccans. Paperback 262 pgs. 14.95
Be Blessed by Denise Dumars
Books of Daily devotions for traditional religions are plentiful, but few such books exist for Wicca and Paganism. That`s why Be Blessed is so unique and valuable. It will help pagans and Wiccans access deities in their everyday lives and provide practitioners of magick simple ways to improve their abilities. With her lively tone, author Denise Dumars also recounts humorous stories of her own mistakes and what she`s learned from them. Use the affirmations in the book when you get up or before you go to bed, as you travel to and from work, in the office, at home, on vacation, or whenever else you might need help or guidance. Be Blessed is not a calendar book; most of the devotions and other workings can be done on any day of the year. Indeed, within you will find such workings as: Chi Gong stretches to wake up your body; Ritual Bathing for purification; Ways to improve self-esteem; Talking to Gods and Goddesses; Sample visualizations; do-it-yourself meditations. This is a 224 page soft cover book. 17.95
Book of Shadows by Lady Sheba

Llewellyn announces the exciting re-release of what many consider to be authentic holy book of Wicca. Lady` Sheba`s The Book of Shadows was the first Book of Shadows ever published in the United States.

During the time of the persecutions, this holy book was handed down by word of mouth to new inititates. When Lady Sheba was initiated into her first coven, she hand-copied The Book of Shadows. It was her wish that publication would bring to light the authentic beliefs of Witchcraft and reestablish the respectability of this ancient art.

The Book of Shadows includes:

Secret initiation rites
Laws of the craft (162) .
Eight ceremonies for the Sabbats.
Consecration rituals.
Invocations.
Actual chants and dances for calling on the gods.



Lady Sheba was one of the first people recognized in the United States to officially establish the Craft as a legally recognized religion. She registered "The American Order of the Brotherhood of Wicca" as a religious organization in Michigan on August 13, 1971. She stated that she was a Witch "by traditional heritage" and a "Gardnerian Witch by choice."

This is a 186 page softcover book.

13.95

Encyclopedia of Wicca and Witchcraft by Raven Grimassi

Whether you`re looking for a description of "Witch marks,"

the words to the classic verse "Invocation of the Horned God," or the magical meaning of a rooster,

you can find it in this comprehensive encyclopedia of Witch history, theology, and lore.

Craft Elder and author Raven Grimassi has revised and expanded his indispensable reference work, the award-winning Encyclopedia of Wicca & Witchcraft. The first book of its kind to be written by a practicing Witch, this guide presents Wicca/Witchcraft as a spiritual path, connecting religious concepts and spirituality to both a historical background and modern practice. With a wealth of information on European folklore and Western Occultism, and material relevant to any tradition, you can us this book to research any aspect of the Craft.

This paperback book contains 525 pages.

28.95
Wiccan Bible by A J Drew

Mythology and science converge as the author details a life`s journey into a religion with both old world ritual and new world science, fusing both into a creation myth which satisfies not only mind, but soul as well. A Wiccan Bible not only shows a religious path filled with joy, but one that offers the ability to accept and manage sorrow. It is filled with ritual and with the reason why ritual is fulfilling, rewarding, and a necessary part of everyday life. As A. J. addresses each issue, he demonstrates how he found the solutions in Wicca and the many ways in which science and magick have helped him to do so. A Wiccan Bible also contains select recipes that the author has collected, including mixtures for incense, oils, and baths.

This is a 427 page paperback

19.95
The Wiccan Way by Rae Beth
The Wiccan Way is filled with simple acts of sacredness and ways to bring magic to your daily life. This evocative book for connecting with the wisdom of prayer, enchantment, and healing magic begins with a thorough description of what prayer means to the Pagan mystic. Prayer and spells are highlighted throughout this enriching book. Paperback 172 pgs 13.95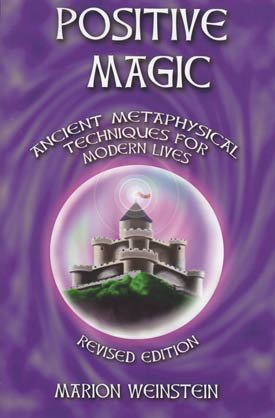 Postive Magic by Marion Weinstein
This is the complete new version of Positive Magic, the classic compendium of magic for personal use that has been a popular favorite for more than 25 years. With updates of Wiccan history, philosophy, tools, and techniques, it also contains a wealth of entirely new material. Addressing the needs of today`s readers -- beginners and adepts alike -- this edition explores new territory which includes: channeling, spirit contact, dealing with the future as well as the past, and the connection between quantum physics and traditional magic.
A rare gem. One of the only magical self-help books that is beautiful, moral, and wise. Marion`s methods of working have greatly influenced my life.

-Margot Adler, author of Drawing Down the Moon
"Well written and fascinating, Positive Magic is a book you must read and keep by your side. Weinstein explains what you need to know and does it in a way that keeps you all the way through. An intelligent approach to using magic in your life."

-Merlin Stone, author of When God Was a Woman and Ancient Mirrors of Womanhood.
"Marion Winstein`s book is amazingly practical, helpful, knowledgeable, sensible, and easy to understand. Reading it makes you aware of powers you probably never knew you had, and what`s more it tells you precisely how to use them."

-Dan Greenburg, author of 55 books, including How to Be a Jewish Mother
"Written by one of America`s Witch elders, this revised and expanded edition of this beloved classic can enrich the spiritual practice eof long time practitioners as well as those beginning their explorations of magical realms."

-Selena Fox, High priestess, Circle Sanctuary, Psychotherapist, and Shamanic Healer.
This is a 301 page softcover book. 18.95
Complete book of Witchcraft by Raymond Buckland
This classic text is the most complete self-study course in modern Wicca available, written by the author who first went public with "the Old Religion" in the United States. One of modern Wicca`s most recommended books, Buckland`s Complete Book of Witchcraft has been used by hundreds of covens to train new initiates and by thousands of solitaries looking for a detailed, step-by-step course in Witchcraft.

This revised and expanded edition includes additional photographs and illustrations, a new preface, and an index. The revised workbook format now includes exam questions at the end of each lesson, building a permanent record of your spiritual and magical training.
20.95