Pentagram Fairy Chalice
This elegant, silver-plated chalice makes a fantastic addition to any altar. With a 3 1/2" stem that tapers down to the 3" diameter base, the whole stands 7 3/4" tall. The cup itself has a 2 1/2" diameter mouth, and is exquisitely engraved on both its front and back with the image of a pentagram whose circle is a series of ever-flowing Celtic knots and whose center is an adorable fairy in flight. With such delightful imagery, this chalice is particularly great who are fae at heart. 32.95
This simple, yet elegant, silver plated chalice has a double-ringed pentagram engraved on opposing sides. It stands 5 1/4" high, with gentle ribbing down a third of its stem. 24.95
Pentagram Inside Chalice
This unadorned, open-mouthed, silver plated chalice has a highly detailed interwoven pentagram engraved in the bottom of its drinking cup. The diameter of the cup is approximately 4" around, and it had some gentle ribbing between stem and cup. Food and drink safe, the pentagram can be seen through most beverages, perfect for altar or personal use 28.95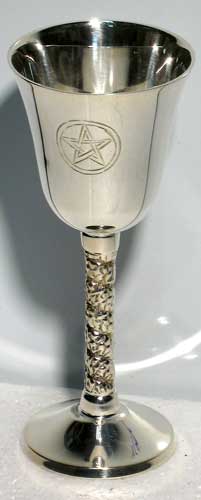 Small Pentagram Chalice 5"
A pentagram is engraved on opposing sides of this food and drink safe chalice. It is silver plated and easily cleaned using common silver polish. Standing 5" high, with its spiral rope styled stem, this chalice is perfect for altar use or even just for decoration. 17.95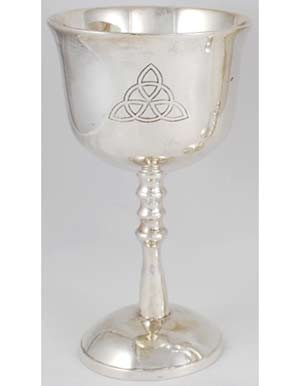 Triquetra Chalice
This is a shorter but broader silver-plated chalice with the celtic symbol of endlessness; the triquetra, engraved on opposing sides. approximately 6 1/4" high with gentle ribbing along the stem, and a slight curl to the lip of the cup. This is a very decorative piece for altar use or as a personal chalice. Food and drink safe. 25.95
Pentagram Triquetra Chalice
This silver-plated chalice would be a wonderful addition to any ceremony or ritual. Measuring approximately 7" high, it is no taller than your average chalice. What makes it stand out, however, is the wide mouth and cup that its sturdy base supports. Measuring approximately 4 1/2" in diameter and 3 1/2" tall, the cup is large enough to easily accommodate ritual offerings and other such contents, whether they are being offered by a single person or a large group or coven.
Making it even more valuable for your ritual crafts, it is adorned on its front and back faces, both on the top cup and the lower base, with the engraved image of a triquetra, which in turn surrounds the five points of a pentagram. This forms a powerful symbol, both representing the three forms of the Goddess, Maiden, Mother, and Crone, as well as the four elements of Earth, Air, Fire and Water, all ruled by Spirit or Divinity. Add it to your sacred space or your coven`s tools today. 66.95

Delicate Pentagram Chalice

This delicate chalice provides an elegant solution to those who need such a tool for their altar but simply do not have much space to store it. It stands at a height of only 4 1/2" tall and its base has a footprint of only 1 3/4" in diameter. This small size does not take away from its elegant craftsmanship however its silver-plated cup offers the engraved image of an interwoven pentagram on both its front and back, while the 2 1/2" stem displays the natural brass, and flares out at the base of a cup presenting a design that almost resembles the petals of a flower. With such decorative flourishes, this is certainly a fine piece for any altar. 17.95
Large Celtic Pentagram Chalice
Decorated in mystical symbols born of ancient occult practice and the designs of the ancient Celts, this Celtic pentagram chalice is a beautiful, silver-plated piece for the altar, whose symbolism is a potent addition to your spellcraft and ceremony.
Its wide, heavy base (measuring approximately 4 1/4" in diameter) is accented by a dimpled texture and two pentagrams arrayed on opposite sides. Each pentagram is interwoven, representing the union of earth, air, wind and fire with spirit or divinity, and surrounded in an intricate weave of Celtic knots, worked into a stylized tree of life; a symbol of the union of Heaven and Earth.
This tapers then to a thick stem that fits comfortably within your hand, with a wide ring interrupting its length intended to keep the chalice resting easily against the grasping fingers, before sweeping back out into the delicate curve of the chalice`s cup. The cup again features the engraving of the pentagram within the Celtic tree of life design, with its surface otherwise unmarred by ornamentation, before ending in the 3 1/2" diameter mouth.
The entire ritual piece measures approximately 8 1/4" tall and is silver plated. 66.95
Green Onyx Chalice Set, 6 small chalices
This wonderful chalice set provides you with six chalices, each crafted from a solid piece of green onyx, resulting in each chalice being imbued with rich, unique patterns and coloring full of layered veins of white, green and burgundy-brown. Aside from being wonderful examples of nature`s brilliant artwork, green onyx is also known for its ability to aid with its energetic properties. This can help imbue anything within it with its properties, or otherwise aid you in empowering your ritual crafts. Use them for this when you are seeking success and prosperity, or otherwise looking for balance and healing.

Each chalice is a tiny creation, measuring just under 2" in diameter around the mouth before flaring out to a wider 2 1/2" in diameter near the base of the cup. There it sits upon a delicate, cylindrical stem and its flat, disk-shaped base; both of which allow you to easily fit your fingers against the contour of the delicate cup. The whole of each chalice measures only 2 1/2" in height, making them perfect little pieces in which to leave your offerings, work your ceremonial magic, or even entertain guests within your home.

These chalices will only be available for a limited time. Get them while you can! 40.95
Triple Goddess Chalice
This simple, silver plated chalice has a triple moon engraved on opposing sides. approximately 6 1/4" tall, with ribbing down half the length of the stem. This chalice is perfect for home altar use, or even just decoration. Food and drink safe, it can also be used for any beverage you choose. 26.95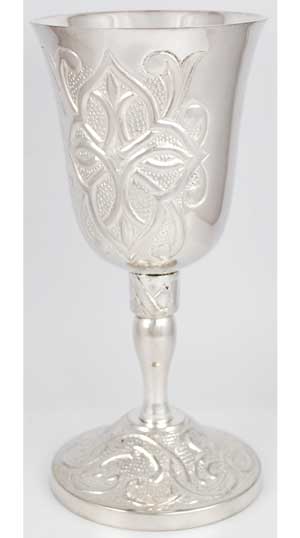 Gothic Cross Silver Chalice 7"
With only a glance, you can see that this intricately patterned chalice is perfectly suited for your magickal ritual and study. Standing approximately 7" tall, it is styled in the same fashion as those seen in the churches, cathedrals and feast halls of medieval Europe, with a wide, bell-shaped cup set upon a flaring stem and a wide base. The cup, possessing a 3 1/4" mouth, is decorated in an image of sweeping angles and arches, creating a cross pattern within an intricate, gothic design. This is complemented by the similar, sweeping patterns that decorate the chalice`s wide, 3 1/4" base. 48.95
Grape Leaf silver chalice 9"
This graceful, narrow stemmed, silver-plated chalice is an elegant piece, rich in the symbolism of the grape leaf. The chalice itself is simple and sleek, standing approximately 9" tall. From where the 2 1/2" diameter base rises into the stem, it presents an unbroken line, sweeping upward to form the chalice`s cup within a fluid line only broken by the embossed image of a vine laden with grapes.
The grape has long history of symbolism, ranging from abundance and prosperity, to joy and pleasure, to rebirth and fertility. Indeed, it is associated with everything from the cults of Dionysus to the Blood of Christ. It is said to protect against evil spirits, offer abundance and vitality, and aid in fertility. 34.95