Celtic Lore and Spellcraft of the Dark Goddess by Stephanie Woodfield

Invoke the Morrigan - the Celtic embodiment of the victory, strength, and power of the Divine Feminine-and be transformed by her fierce and magnificent energy.
In this comprehensive, hands-on guide to Celtic Witchcraft, Stephanie Woodfield invites you to explore the Morrigan`s rich history and origins, mythology, and magic. Discover the hidden lessons and spiritual mysteries of the Dark Goddess as you perform guided pathworkings, rituals, and spells compatible with any magical path. Draw on the unique energies of the Morrigan`s many expressions-her three main aspects of Macha, Anu, and Badb; the legendary Morgan Le Fay; and her other powerful guises.
From shapeshifting and faery magic to summoning a lover and creating an Ogham oracle, the dynamic and multifaceted Dark Goddess will bring empowering wisdom and enchantment to your life and spiritual practice.
This is a 407 page softcover book. 19.95
Pure Magic, Complete Course in Spellcasting by Judika Illes
Pure Magic is a practical crash course for anyone who`s ever envied TV witches. Or women who always seem to get the job, apartment, or date they want. Or people who can make their dreams come true. Judika Illes has written a spellcasting primer in down-to-earth language. "I consciously set out to write a book that would be different from any other on the market," Illes writes. "This book is jargon free. It contains information usually handed down from teacher to student. It focuses on the practical aspects of spellcasting in a clear and nonjudgmental way. . . . No specialized metaphysical training is required."
What is required is that we become aware of the natural rhythms, energies, powers, and patterns of Earth and her diverse inhabitants. Pure Magic offers a plethora of individual spells, plus concrete advice on how and where to practice magic, to rightly use words of power, and to cleanse, protect, and enhance your magic self. Work your way through it`s easy-to-follow, step-by-step plan, and all will become clear. Learn to listen to Mother Earth, focus on your magical allies, gather the simple equipment Illes outlines, and follow the straightforward instructions, and you will soon be constructing your own spells and experiencing magic in your everyday life.
Pure Magic is a book that beginners will follow rigorously and advanced spellcasters will refer to again and again for guidance and inspiration. 18.95
Spell Castings by Sister Moon
Have you ever lit a pink candle on a Friday night and thought about the love you would like to have in your life? Maybe even closed your eyes and pictured that perfect person?
Have you ever walked into a room, known you were not alone, and said a prayer for protection?
Have you ever looked at a telephone, wishing it would ring, and it did?
If you have had these or similar experiences, you have put the cosmic forces of the universe tow ork without even realizing it. Imagine what would happen if you decided to consciously focus your energy, willing these things to happen. Would they?
Spell Castings contains more than 100 easy-to-use, practical spells to help you achieve and accomplish your dreams. Spell Castings can be performed by the experienced Witch, but are easy enough for the novice. Specific procedures -- including the use of various supplies needed to cast the spells -- are completely explained.
Spell Castings is divided into color-coded chapters to help you determine which spell you desire to cast. For example, the "purple" chapter includes spells to become more psychic or to help you perform more intuitive readings. If you were seeking a money spell or better employment spell, you would look under the "green" chapter. The color-coded appendix will lead you to the areas you are most interested in casting.
This is a 286 page softcover book.
15.95
Money Magic by Frater U D
One of the world`s best-known ceremonial magicians, contemporary occult author Frater U.:D.:, persents the definitive guide to money magic. Previously unavailable in English, this advanced guide will be welcomed by ceremonial magicians, hermeticists, and other magic users.
Money Magic starts with the revolutionary premise that money belongs to the element of Air. By transforming the idea of money in your psyche, you will invite wealth to flow more freely and easily into your life. This comprehensive guide gives step-by-ste instructions on how to master prosperity in its true element, using new paradigms, magical invocations, rituals, sigls, and pathworkings.
This is a 221 page soft cover book.
16.95
Italian Witchcraft by Raven Grimassi
The legacy of Italian Witchcraft, handed down for generations, is now yours. Author Raven Grimassi reclaims the Pagan spirituality of southern Europe and traces its roots from the pre-Christian era to the fourteenth-century Holy Strega and the modern Legend of Aradia. Italian Witchcraft imparts knowledge once known only to secret initiates and gives you a solid introduction to Strega traditions. You will learn how to:
cast and break spells
create a Spirit Flame
invoke the power of a Watcher
cast shadows
make Stregherian magickal tools
perform beautiful Aridian marriage, birth, and death rites
make offerings to Diana and the Full Moon
cleanse and repair the aura
tap into lunar energy by Drawing Down the Moon

If you`re an aspiring Witch or Magician, Italian Witchcraft to enhance your rituals. The Ways of the Strega had a profound influence upon the works of Aleister Crowley and Gerald Gardner; they will influence you, too.

Come, be part of an ancient tradition.
18.95

Seven Sisters` Spellbook by Maude
Here Maude, one of the Seven Sisters of New Orleans, famed for the production of potent and powerful magical products, has used her spiritual knowledge and experience, as well as that of her Sisters, to help guide you in your search for success and power. Maude write so that you may consider her your personal teacher in your exploration for a better, more fulfilled life. Simple and easy to read, the book provides easy to follow formulas and rituals intended to help you create a better reality, and allow you to take control and focus your life in the direction of your desires. She writes to show you that real magic begins inside of yourself, with the spells in the pages of her book being the tools for you to make things happen. With you visualizing the outcome you want to achieve, your intense desire to make things happen can forge for you the life you crave.
This is a 72 page, soft cover book. 7.95
Temple of High Witchcraft by Christopher Penczak
The Craft meets high magick in The Temple of High Witchcraft, the much-anticipated fourth volume in Christopher Penczak`s award-winning series of Witchcraft teachings.
Penczak invites Witches to continue their spiritual evolution by exploring the ceremonial arts. Learn how these two traditions intersect in history and modern magickal practice. Penczak introduces Qabalah and discusses each sphere of the Tree of Life, in addition to ritual, path-working, and other important concepts. In twelve lessons, you`ll discover how to integrate these ideas and practices into your Craft. Following the traditional year and a day timeframe, this training program culminates with creating your own "reality map" of spiritual experience and truths.
This is a 560 page trade paperback. 22.95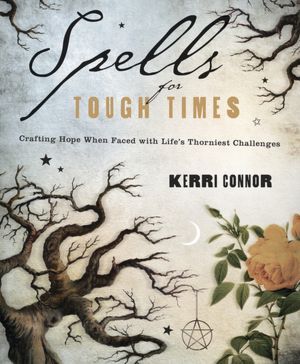 Spells for Tough Times by kerri Connor
Looking for some magical help for those unpredictable curveballs that life throws your way? Spells for Tough Times is a unique and comprehensive tool-kit for coping with and rising above just about any difficulty, whether it`s a minor annoyance, embarrassing quandary, or unexpected crisis.
Refreshingly positive and practical, this book features over 150 easy-to-perform spells and rituals that address specific problems we all commonly face. Organized by major areas of concern, you`ll find customizable spells related to personal habits and emotions, family and children, relationships, pets, health, house and home, career, finances, legal disputes, world events, death, and handling grief. Compatible with all spiritual paths and levels of spellwork experience, these simple yet potent spells will help you find peace, let go of stress, and survive every bump in the road.
From layoffs and foreclosures to child bullying and identity theft, this book combines magical and mundane solutions to help you navigate life`s hurdles and hardships with grace, serenity, and hope.
Open up the pages of Spells for Tough Times and learn to:
reconnect with an estranged relative
Banish an unwanted crush
Speed recovery from a serious illness
Move on after divorce or infidelity
Heal from the loss of a loved one or pet
Manage the pressure of being overextended at work
And much more
This is a 431 page softcover book.
22.95
Everyday Magic by Dorothy Morrison
This book is bursting with ways to make the Ancient Arts fit todays fast-paced lifestyle: turn modern conveniences such as coffee makers, blenders and crock pots into viable magical tools. Try a large assortment of recipes with easy-to-find ingredients for creating your own oils, incenses, potions, and powders. Plus, find over 300 spell and ritual solutions to your toughest challenges. Youll discover new ways to keep the old ways alive with this inspiring guide to living a magically modern life. Paperback, 305 pgs. 15.95
Bible Spells by William Oribello

Within this book are ancient magick techniques using secret power verses taken from the Holy Scriptures to gain enlightenment, health, good fortune and all-around prosperity. These easy to perform spiritual spells will have a deep impact on your life and those of your loved ones.

Beginning in his childhood William Oribello experienced contacts with Divine Forces in the forms of Angelic Beings and Ascended Masters. These spiritual contacts taught him the secrets of the creative force and how we all can utilize special verses from the Holy Bible, along with candles, incense, crystals and gemstones for luck, love, and well being. In this book you will find spells to aid in: love and romance, money and business success, achieving good luck and removing bad luck, protection of your home, health, healing and happiness.

This is a 187 page, large print softcover. 24.95